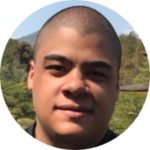 Current Position
Flight Support Expert
Date of entry
04/2011
Curriculum vitæ
Stéphane Leduc is a Flight Support Expert with SWISS Virtual.
Since a very young age, Stéphane has been fascinated by all aspects of flying. Born into a family of aviation enthusiasts he has been closely following the journey of SWISS Virtual and dedicated his time into a home cockpit project. He has previously served SWISS Virtual as a Flight Support Agent.
Today Stéphane travels a lot and flies actively for SWISS Virtual. He also takes part in the development of our Operations/Flight Support services.